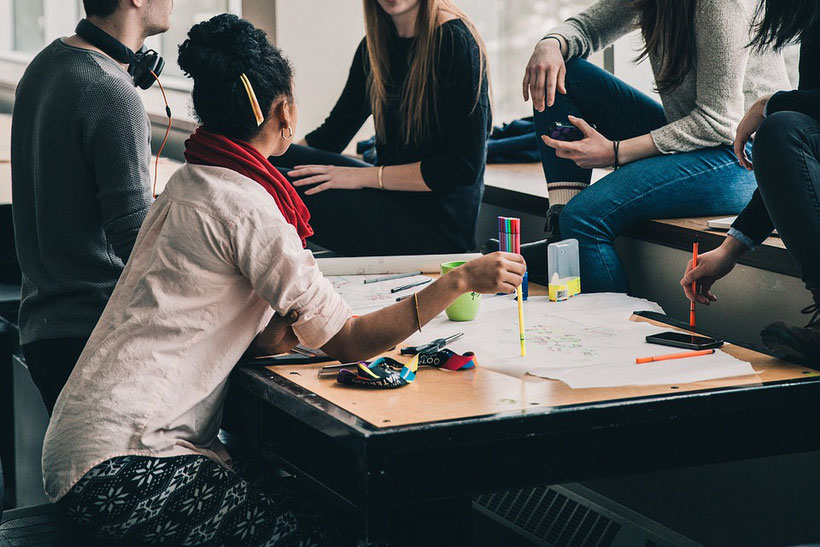 ---
◆ Tuesday        PM 6:15 - 7:30  ( 75 min.)
                           PM 4:30 - 5:45  ( 75 min.)    (coming soon)
◆ Saturday       PM 1:15 - 2:30  ( 75 min.)
                           PM 3:00 - 4:15  ( 75 min.)    (coming soon) 
 ※ 1 class / 1 ticket.  You must buy tickets before you take a class. 
◆ Currently Tuesday & Saturday. Just 1 class each for now. We will add more classes after our school students amount bigger. 
※ Please inform us your attendance in prior day by 3:00 pm.
---
◆ Reading & Writing
   ・ Hiragana (& Katakana) : You learn 46 basic Japanese character first. This is like a Japanese alphabet.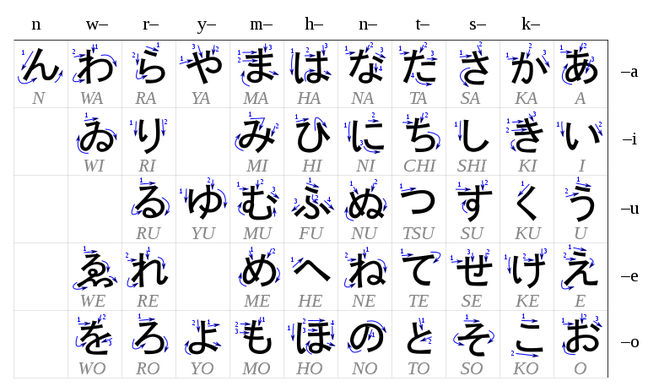 Hiragana table : 46+2 (old school, basically we don't use this 2 characters.) 
 ・Kanji (Chinese character) : You learn basic Chinese character of Japan. 
           Ex.)  1. 日 (=Day(s), Sunday) 
                      2. 月 (=Moon, Month, Monday)
                          etc.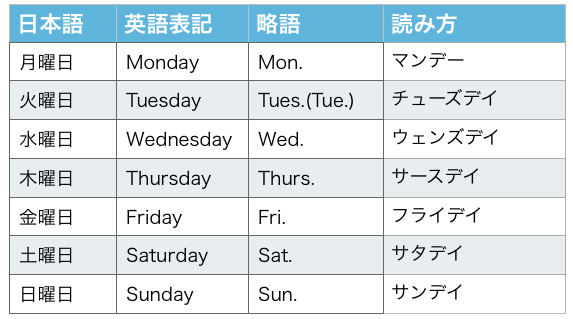 Week table (Japanese Kanji, English & Katakana)
◆ Conversation 
       ・Group discuss : Topics will be changed by each time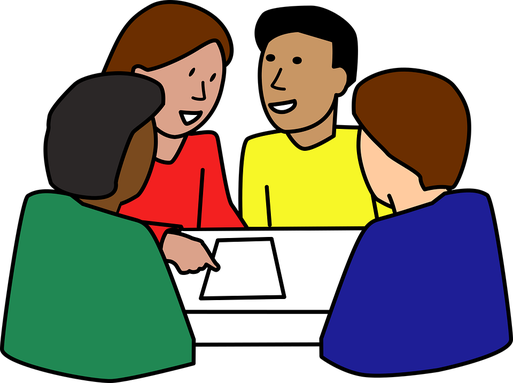 ---
Please bring your pencil, eraser, and notebook.
Teacher bring text (copied paper for everyone) and we use white board for class. 
---
Please enter your information by this page and then please come to Jimotti's Restaurant for pay your registration and tickets fee. We don't accept payment by web because we need to check your face and your photo ID for enroll our Japanese class. So, please do not forget your photo ID. 
* Please check our restaurant schedule before you come to pay for your fee. 
* We will contact you by e-mail in few days after we received your enroll.
---
◆ Registration Fee  $25.00  (1 time only)
◆ 1 ticket = $25.00 : expiration date ⇒ 30 days 
◆ 5 tickets = $110.00  ( $22.00 / ticket.  You saved $15.00 )  : expiration date ⇒ 60 days
◆11 tickets = $220.00  ( $20.00 / ticket.  You saved $55.00 )  : expiration date ⇒ 90 days
※ All sales are final. No refundable.
---
1. Our Students will be received "Student Card".  Present your student card and you can eat at Jimotti's Restaurant with 10% discount price. (You can bring your family or friends, but it's 5 people is maximum including yourself.)
2. You can drink any soft drink for freely when you taking your class. (Coca Cola Products)
---
We will get to know each other as we develop our classroom family. We will be reviewing and creating rules to help us get along, be responsible, and to help us stay safe and be helpful.  
But please remember, this is NOT community school. If a student repeatedly interrupts classroom leaning time they may be can't continue to study in this class. So, that student have to quit the class.
It will not accept any excuses at the discretion of the teacher and chef Junichi.
Also, all paid money will not be refunded.
Please understand. Thank you very much.